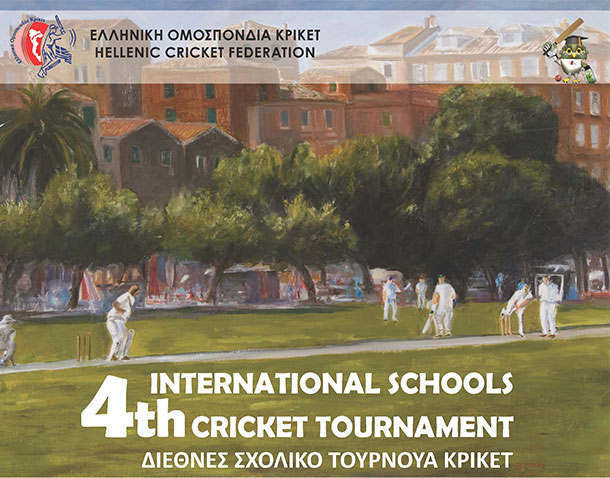 Games Final Four and ranking 4th International School tournament
With five races continued yesterday the 4th International School Cricket Tournament that included two Final Four games at the stadium Marina Gouvia three ranked matches in stadiums Lower Square and Messonghi.
The race results are as follows:
FINAL FOUR
JAIN INTERNATIONAL RESIDENTIAL SCHOOL, TEAM B – 64 – 63
CITY MONTESSORI SCHOOL
Νικήτρια η ομάδα JAIN INTERNATIONAL SCHOOL, TEAM B με 7 wickets
GD GOENKA INTL SCHOOL – JOBURG CRICKET CLUB 127 – 126
Νικήτρια η ομάδα GD Goenka INTL SCHOOL με 5 wickets
In the final two qualifiers Indian groups Jain International school, team B and GD Goenka Intl school while in the small final qualifiers the other team from India City Montessori school with last year's champion team from N. Αφρική Joburg cricket club. O small final will take place at 10.30 The stadium Messonghi with finals on 15.30 in the same stadium.
Matches CLASSIFICATION
– FOR POSITIONS 5 – 6
CORFU SCHOOLS ACADEMY – DELHI PUBLIC SCHOOL 133 – 86
Νικήτρια η ομάδα CORFU SCHOOLS ACADEMY με 47 runs
– FOR POSITIONS 7 – 8
GUERNSEY CRICKET – JAIN INTL SCHOOL, TEAM A 127 – 134
Winning team JAIN INTL SCHOOL, TEAM A με 7 runs
– FOR POSITIONS 9 – 10
SAHETI SCHOOL - EBENEZER INTERNATIONAL SCHOOL 68 – 80
Νικήτρια η ομάδα EBENEZER INTERNATIONAL SCHOOL με 12 runs
H classification groups for posts 5 – 12 reads:
5η ΘΕΣΗ CORFU SCHOOLS ACADEMY
6η ΘΕΣΗ DELHI PUBLIC SCHOOL
7η ΘΕΣΗ JAIN INTL RESIDENTIAL SCHOOL, TEAM A
8η ΘΕΣΗ GUERNSEY CRICKET
9η ΘΕΣΗ EBENEZER INTERNATIONAL SCHOOL
10η ΘΕΣΗ SAHETI SCHOOL
11η ΘΕΣΗ MECHANICS & ENGINEERING SCHOOL N. VAPTSAROV
12η ΘΕΣΗ SCHOOL CLUB ATHENS