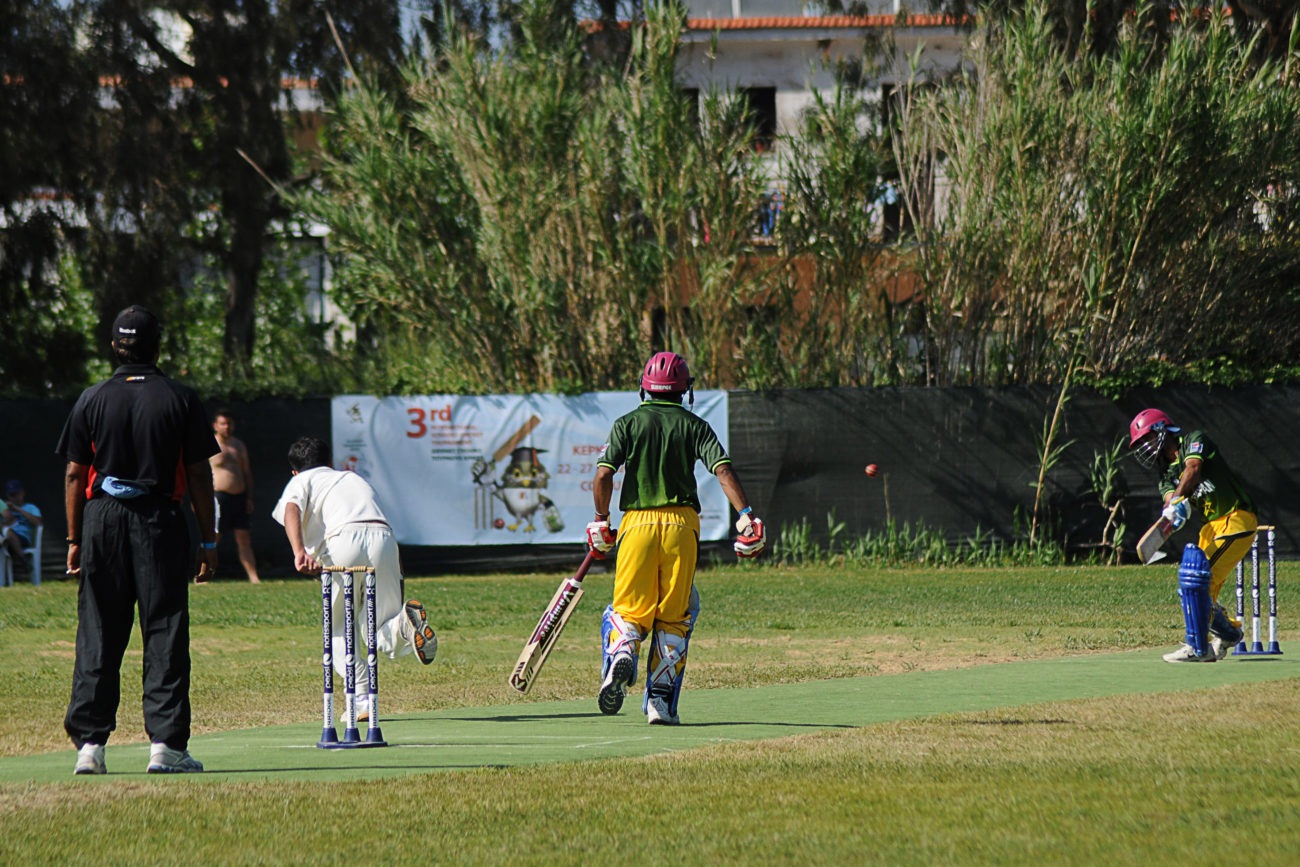 4th International Schools Cricket Tournament 2014
HELLENIC CRICKET FEDERATION
Member of I.C.C.-Europe
26 Kosta Georgaki Str – 49100 Corfu/Greece
Tel/Fax.: +30 2661036560, e -mail:
4th INTERNATIONAL SCHOOLS CRICKET TOURNAMENT
21-26 APRIL 2014
CORFU – GREECE
WELCOME AND INTRODUCTION
Hellenic Cricket Federation (H.C.F.) would like to invite 16 school groups or teams from across the globe to participate to the 4th INTERNATIONAL SCHOOLS CRICKET TOURNAMENT 2014. The tournament will be held in Corfu/Greece on 21 – 26/04/2014.
H.C.F. offers for free for 18 persons (15 student & 3 officials) per school or team:
7 nights accomodation at Messonghi Beach Hotel & Spa (in dbl/twin or triple rooms with private facilities).

Breakfast and dinner at the hotel daily.

Transfers Airport (Port) – Hotel – Airport (Port).

Transfers from the Hotel to the Venues and return.

Transfers for the opening ceremony and return.

Gala Dinner at the prize giving ceremony on Saturday evening.
TOURNAMENT ENTRY: 120 euros per person
To secure your place in the Tournament a deposit of 500 euros per school/team is required. As per every year we will run a strict "first come first served" policy.
Schools or teams who wish to participate to the Tournament must submit the application form completed and make the deposit no later than 30/10/2013.
For friends, families or fans who wish to accompany a school/team please contact Mr Nicolas Fournarakis (Managing Director of cricketingreece.com, e-mail: for further information).
TOURNAMENT INFORMATION
Format: T20 Tournament. One innings per side, each innings limited to a maximum of 20 overs.
Players date of birth: All students/players must have been born from 1/1/1997 – 31/12/2000. Dates will be checked by the Tournament Referee at the Managers and Umpires meeting which will be held before the start of the tournament. Exceptionally at the tournament will be able to participate up to three (3) younger players.The teams who wish to use younger players must submit to the Hellenic Cricket Federation the Special Dispensation – Underage application form signed by the guardian of the player at least two (2) months before the start of the Tournament.
Tournament venues: Three grounds will be used for the Tournament. One is the Marina cricket ground which is 25km away from the hotel. The second is the Espianada square ground which is situated at Corfu town and 20km from the hotel. The third ground is situated in the hotel and is walking distance from the accommodation. All grounds have artificial pitches. All teams will play in all grounds.
Cricket balls: Red balls will be used for the tournament. All balls will be provided by the Hellenic Cricket Federation.
Clothing: The tournament will be played in white clothing or other colored uniform except the color of the ball which is red. Only rubber shoes are allowed during the match. (No spiked shoes).
Arrival and departure:Teams should organize to arrive in Corfu on 20/04/2014 and departure on 27/4/2014. H.C.F.'s coaches will transport teams from the airport to the hotel. Transfer time is about 30-45 minutes respectively. Flight details to be sent to the Tournament organiser at by 15/01/2014 latest.
Registration cards: To all the team members will be given registration cards with their check-in at the hotel. All team members should bring with them a passport photo for their registration cards.
Accommodation:All schools/teams will be accommodated at the MESSONGHI BEACH HOTEL & SPA. Accommodation is been booked on a bed, breakfast and dinner basis. Hotel rooming list to be sent to the Tournament Organiser at by 15/01/2014 latest.
Hotel details
Name: MESSONGHI BEACH HOTEL & SPA
Address: MORAITIKA 49100 CORFU – GREECE
Telephone: +30 26610 83000
Web: www.messonghibeach.gr
Meals:Breakfast and dinner is provided in the hotel. It is essential that all schools/teams inform the Tournament Organiser at of any special dietary requirements by 15/01/2014 latest.
Team officials and participants: Team officials will be fully responsible for the discipline of their team members during the event and period of stay. Participants are advised to ensure the safety of their belongings at all times.
Tournament Umpires and scorers: Every team is required to provide one umpire (with umpiring diploma if it is possible or cricketing experience) and one scorer (in a good level) who will participate to all the matches of the tournament. These two should be notified in the application form.
Manager and umpires meeting: There will be a meeting of team officials chaired by the Tournament Director, on the evening before the first day of the tournament. During the tournament team officials will have to attend meetings, whenever required.
Medical facilities: Medical boxes will be available at all venues. In case of an emergency there will be full cover from the National Centre of Urgent Needs.
Opening ceremony: Will take place on Sunday afternoon (18.00) at Espianada square ground. All team members must attend the ceremony. Teams should be uniform dressed (with their playing clothes) and the officials must wear tie. Schools or teams should bring with them a flag of their school and their country flag (mandatory).
Gala dinner dress code: Teams may wear team evenly shirts and trousers or blue jeans (or other uniform appearance) and the officials must wear tie. The event must be attended by all school groups.
Photo shooting: There will be a photo shooting of all the participants of the tournament. The date and time will be set according on match schedule. Teams should be uniform dressed (with their playing clothes) and the officials must wear tie.
Practise: Practice can be arranged at the Messonghi ground. Practice requirements to be sent to the Tournament Organiser at at least one (1) month before the start of the Tournament.
Brochure: There will be one page allocated for each squad at the Tournament brochure. The following information is required from each participating school/team:
– Squad Photo
– Country Flag and School-team Logo
– Short history and Squad details including captain, players, coach, manager and officials
All information to be provided to the Tournament Organiser at by 15/02/2014 latest.
Awards:
Το the winning team will be given cup and medals.

To the 2nd and 3rd team will be given plaque and medals.

Player of the Tournament

Player of the Final

Best Bowler

Most popular official

Spirit of cricket team
In all participant teams will be given diplomas.
Weather: The weather in Corfu during April is good and well suited to the playing conditions. The average temperature will be around 18-25 degrees.
Collateral cultural events: Τhose schools wishing to present something that represents their school or country (dancing, singing, theater etc.) please let us know in order to organise the event.
Finance: Participating schools/teams must make the first deposit by 30/10/2013. Final payment to be made by 1/04/2014.
Bank: ALPHA Bank
Account Name: Hellenic Cricket Federation
Account #: 680002002017096
IBAN: GR39 0140 6800 6800 0200 2017 096
SWIFT: CRBAGRAAXXX
TOURNAMENT ORGANIZER 
Name: Athina Altani

Assistant: Elena Mitsiali

Tel/Fax.: 00302661036560

TOURNAMENT DIRECTOR
Name : Stylianos Goustis
Assistant: Elena Stefopoulou
Tel/Fax: 00302661036560
Mobile : 00306948948072
TOURNAMENT REFEREE
Name: Ioannis Aftinos
Mobile: 00306972899061
SUMMARY OF INFORMATION REQUIRED FROM PARTICIPATING SCHOOLS/TEAMS
1rst deposit by 30/10/2013

Flight details by 15/01/2014

Hotel rooming list by 15/01/2014

Dietary requirements by 15/01/2014

Squad details for brochure by 15/02/2014

Special dispensation-underage application form by 21/02/2014

Extra practice requirements by 21/03/2014

Final payment by 1/04/2014
Please feel free to contact us with any queries you may have.
FOR THE H.C.F.
THE PRESIDENT                                                               THE GENERAL SECRETARY
IOSIF NIKITAS                                                                    STYLIANOS GOUSTIS