3the International Schools Cricket Tournament 22-27/4 2013, EL.O.K
3the International Schools Cricket Tournament 22-27/4 2013, EL.O.K
With the co-organization of the Region of Ionian Islands, the Municipality of Corfu and the Chamber of Commerce takes place in Corfu from 22-27 April 3rd International Schools Cricket Tournament.
This year, the organization which is under the auspices of the Ministry of Tourism, participating schools and representative groups from Greece, England, India, Bulgaria and South Africa.
The institution of School Tournament aims to put its own unique stamp on the tradition of sports – student events not only in Greece but also all over the world.
The Organization of the International Tournament touch sensitive piece of Education, and it is inseparable from the School Sport and the dissemination of 'fair play'. In this context, the Regional Directorate of Primary and Secondary Education Ionian Islands, places the event in "Culture and Volunteering Week".
Proposal of the Commission for Culture and Volunteer Week is to establish contact and cooperation of schools that will participate in the International Cricket Tournament with schools of our island, so that each school will "adopt" one visiting school group. During the race, parts of Corfu schools will attend the stadium, where will take place matches of the teams have "adopted" and in the light of sportsmanship and "fair play", They will reinforce the same school group. Alongside, will be updated by specialized physical education teachers or coaches of the Greek Federation of Cricket, about how the sport is played Cricket. The program involves primary schools of the county (1ο, 4ο, 6ο, 7ο, 8ο, 12ο, 13ο, 14the GASTOURIOU, FOX, Kontokali).
The matches will start on Monday 22 April and will be completed Saturday 27/4.
Part of the mission would remain in Corfu after the end of the competition to attend religious events of the "Palm Sunday".
As part of collateral events missions will visit the market of Corfu, They will know the local products and visit museums on the island.
The great interest shown by school academies from around the world and support the organization of Corfu bodies stimulates optimism EL.O.K ahead for the institution.
For more information:
Press Release EL.O.K
Competition schedule
Event Poster
form Event
Organized by:
Region of Ionian Islands – Municipality of Corfu – Commerce Corfu
Co-Organization:
Ionian Islands Region – Municipality of Corfu – Commercial Chamber of Corfu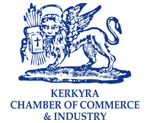 Under the auspices of the Ministry of Tourism
Under the Auspices of the Ministry of Tourism


Event Sponsors:


Communication Sponsors: