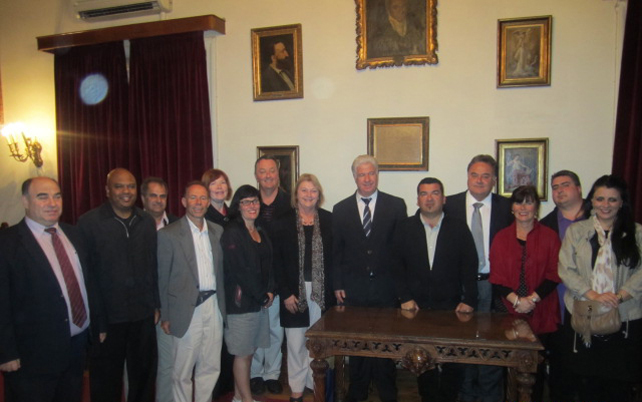 The Cricket brings Australians MPs in Corfu, May 2011, EL.O.K
May 2011
The Cricket brings Australians MPs in Corfu
They visited Corfu on Wednesday 11 May 2011 , Members of the House of Victoriaapodechomenoi invitation of Greek Cricket Federation. As part of planned events, the deputies participated in a cricket match at the historic stadium of Kato Plateia where they faced the Corfiot veteran athletes. On the occasion of their visit to the island for three days, the Australian politicians met with the Governor, the deputies, the Mayor and other bodies of Corfu. in particular the Federation had the honor of welcoming them:
ΒRUCEADKINSON: President of the Senate
VLAHOSLEESAANNE: Chairman of the Friendship Group with Greece Committee of the South Australian Parliament
ΤΑRLAMISLEEREGINALD: Member of Parliament
FOLEYMARTINPETER: Chairman of the Friendship Group with Greece of the Victoria Parliament
PERERA JUDE: Member of Parliament
HOWARD GEOFFREY KEMP: Member of Parliament
CAMPBELL CHRISTINE: Member of Parliament
KAIROUZ MARLENE: Member of Parliament
EIDEH KHALIL: Member of Parliament
PANTAZOPOULOS JOHN: Member of Parliament
FYFFE CHRISTINE: Vice President of Parliament
DUNCAN JOANNE: Member of Parliament
He visited Corfu on Thursday 12/5/2011 the Deputy Minister of Culture & Of Tourism George Nikitiadis, accepting invitation of the President of the Hellenic Cricket Federation Joseph Nikitas. Purpose of his visit, was the meeting with the Australian MPs.