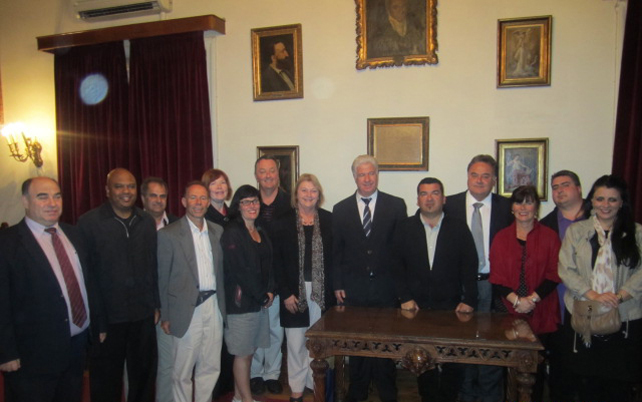 The Cricket brings Australians MPs in Corfu, May 2011, EL.O.K
May 2011
The Cricket brings Australians MPs in Corfu
Την Κέρκυρα επισκέφτηκαν την Τετάρτη 11 May 2011 , Members of the House of Victoriaapodechomenoi invitation of Greek Cricket Federation. Οι βουλευτές στο πλαίσιο προγραμματισμένων εκδηλώσεων συμμετείχαν σε αγώνα Κρίκετ στο ιστορικό γήπεδο της Κάτω Πλατείας όπου αντιμετώπισαν τους Κερκυραίους παλαίμαχους αθλητές. Επ ευκαιρία της επίσκεψής τους στο νησί για τρεις ημέρες οι Αυστραλοί πολιτικοί συναντήθηκαν με τον Περιφερειάρχη, τους βουλευτές τον Δήμαρχο και άλλους φορείς της Κέρκυρας. συγκεκριμένα η Ομοσπονδία είχε την τιμή να υποδεχτεί τους:
ΒRUCEADKINSON

:

Πρόεδρος της Γερουσίας

VLAHOSLEESAANNE

:

Πρόεδρος Επιτροπής Ομάδας Φιλίας με την Ελλάδα του Κοινοβουλίου της Νότιας Αυστραλίας

ΤΑRLAMISLEEREGINALD

:

Bουλευτής

FOLEYMARTINPETER

:

Πρόεδρος Επιτροπής Ομάδας Φιλίας με την Ελλάδα του Κοινοβουλίου της Βικτωρίας

PERERA JUDE

:

Βουλευτής

HOWARD GEOFFREY KEMP

:

Βουλευτής

CAMPBELL CHRISTINE

:

Βουλευτής

KAIROUZ MARLENE

:

Βουλευτής

EIDEH KHALIL

:

Βουλευτής

PANTAZOPOULOS JOHN

:

Βουλευτής

FYFFE CHRISTINE

:

Αντιπρόεδρος Βουλής

DUNCAN JOANNE

:

Βουλευτής
Την Κέρκυρα επισκέφθηκε την Πέμπτη 12/5/2011 ο Υφυπουργός Πολιτισμού & Τουρισμού Γιώργος Νικητιάδης, αποδεχόμενος πρόσκληση του Προέδρου της Ελληνικής Ομοσπονδίας Κρίκετ Ιωσήφ Νικήτα. Σκοπός της επίσκεψης του, ήταν η συνάντηση με τους Αυστραλούς Βουλευτές.