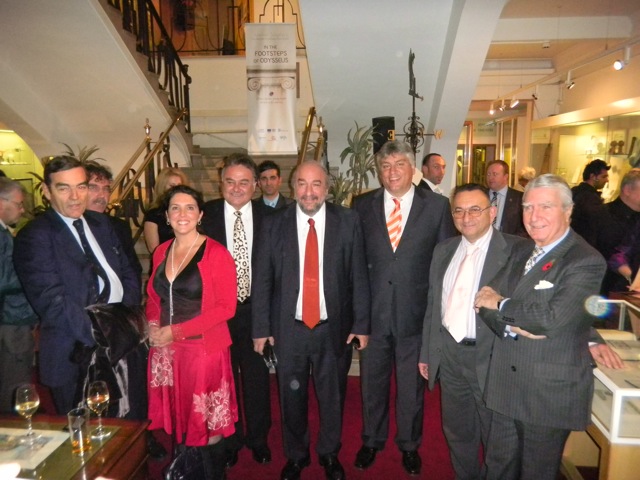 The Return There To All Began, November 2010, EL.O.K
November 2010
Συμμετοχή της Greek Cricket Federation στην World Travel Market 2010.
Powered expressions "The return there to all began"
Μια ανοιχτή πρόσκληση στις σχολικές κοινότητες του πλανήτη να επισκεφθούν την Ελλάδα, ακολουθώντας τα βήματα του Οδυσσέα σε ένα ταξίδι επιστροφής, "εκεί που ξεκίνησαν όλα" ήταν το περιεχόμενο της 2ης κατά σειράς ετήσιας εκδήλωσης που συνδιοργανώθηκε από την Περιφέρεια και την Ελληνική Ομοσπονδία Κρίκετ με πρωτοβουλία της τελευταίας. Κατά τη διάρκεια της εκδήλωσης, ανακοινώθηκε το Διεθνές Σχολικό Τουρνουά 2011
Tην Ελληνική αντιπροσωπεία, με επικεφαλής τον Υφυπουργό Πολιτισμού Τουρισμού κ. Γιώργο Νικητιάδη, αποτελούσαν η Βουλευτής κα Μάγια Τσόκλη, ο Γενικός γραμματέας της Περιφέρειας Ιόνιων Νησιών κ. Κώστας Γεωργαλίδης, ο πρόεδρος της Ελληνικής Ομοσπονδίας Κρίκετ κ. Joseph Nikitas, η διευθύντρια του γραφείου Λονδίνου του ΕΟΤ κα Σοφία Παναγιωτάκη κ.ά. Μεταξύ των προσκεκλημένων ξεχωριστές ήταν οι παρουσίες της διάσημης Βρετανίδας ιστορικού, συγγραφέως και παρουσιάστριας τηλεοπτικών εκπομπών Bettany Hughes, του Λόρδου Sir Simon Orr-Ewing, του κόμητα Σπύρου Φλαμπουριάρη, του τηλεοπτικού σχολιαστή – πρώην αθλητή του κρίκετ Simon Hughes, της ιδρύτριας του ταξιδιωτικού οργανισμού Corfu Villas Patricia Cookson, του διευθυντή Ανάπτυξης για την Ευρώπη του Παγκοσμίου Συμβουλίου Κρίκετ Richard Holdsworth, της πρώην διευθύντριας της Πολιτιστικής Ολυμπιάδας Λονδίνο 2012, του συμβούλου του Υπουργείου Πολιτισμού, πρώην διευθυντή της Αegean και της Ολυμπιακής, n. Σταύρου Δαλιάγκα και του Κερκυραίου τουριστικού πράκτορα, member of the Board. του ΣΕΤΕ, n. Γιώργου Δούκα.